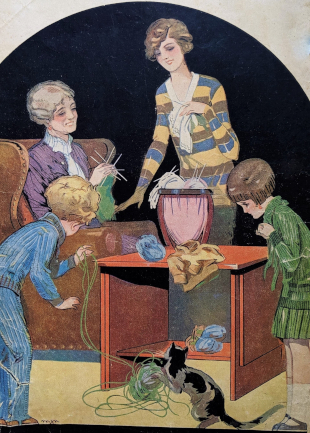 THE SECRET LIFE OF KNITTING
*New for 2020*
Journey beyond knit-one-purl-one to learn more about the amazing history of knitwear and crochet, from Egyptian socks and royal vests to playful ponchos and radical yarn bombing.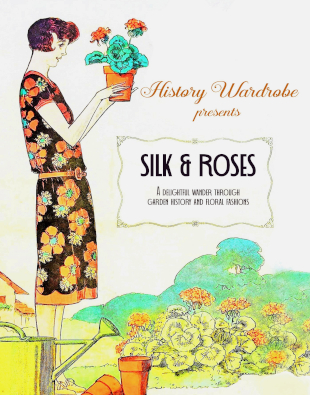 THORNS AND ROSES
*New for 2020*
A delightful wander through garden history and floral fashions, featuring feisty botanical explorers, curious garden lore, and gorgeous flower-themed stitchcraft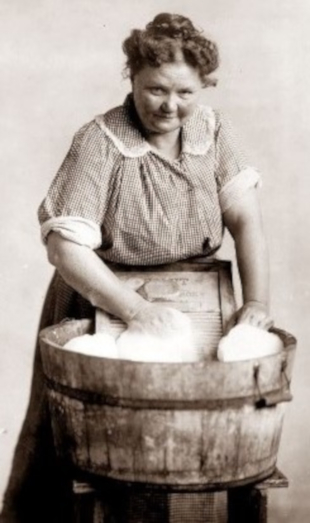 MONDAY IS WASH DAY
*New for 2020*
Plunge into the suds and stains of historical laundry and discover how to get your toga, petticoats or collars white than white!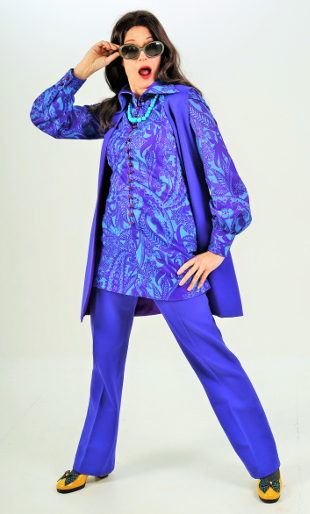 WHAT WERE WE THINKING?! THE 1970s SHOW
The Two Lucys take on the 1970s in this groovy new celebration of history's most orange-and-brown decade, with Bri-Nylon, Biba, bra-less Women's Libbers... Disco sparkle, psychedelia, Punk, ponchos, hot pants and platforms!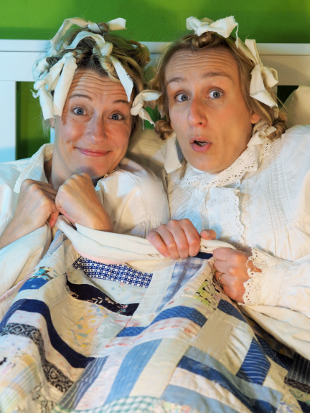 GOOD NIGHT, SWEET DREAMS
>
A hilarious new history of bedtime. Covered-up cotton gowns, or brazen in Bri-Nylon - we explore boudoir glamour, bedtime stories, the science of sleep and the rise of the Duvet Day.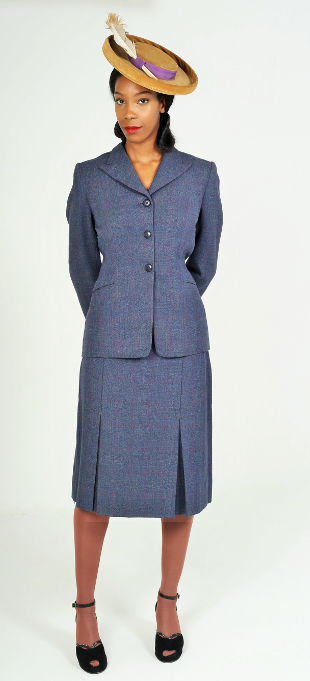 READY FOR ACTION
What would you wear to war? The stirring stories behind Lucy Adlington's new costume history book Ready for Action - a unique insight into the experiences of women worldwide during World War Two and the aftermath.

WOMAN IN GOLD
Art, glamour and intrigue! Explore the lure of gold in fashion and the hidden world of women in art. Inspired by the dazzling embellishments of artist Gustav Klimt... and the fate of one of his most famous paintings.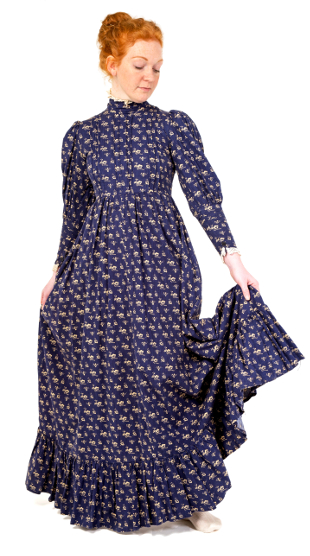 WE LOVE LAURA
Did you wear Laura Ashley? Prairie dresses and floral frocks... Indulge in fashion nostalgia with classic Laura Ashley clothes from the 1960s to now.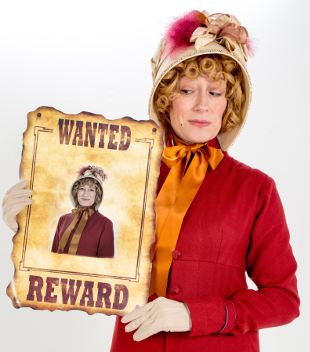 BAD GIRLS & BONNETS
Jane Austen's guide to being brazen. A bold, brash and beautiful celebration of Austen's wicked women, and a truly revelatory look at clothes & crime in the eighteenth century.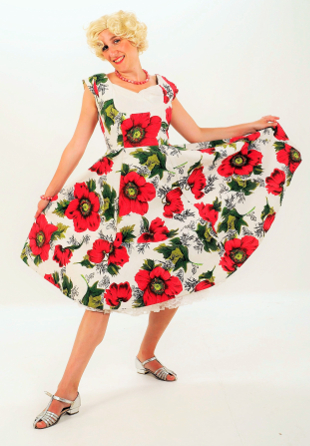 FABULOUS FIFTIES
Do you remember the Liberty bodice? We transform a domestic drudge into a glamour goddess, with the help of bullet bras, sugared petticoats and sterling advice from the experts, all set in the decade that reinvented dazzle.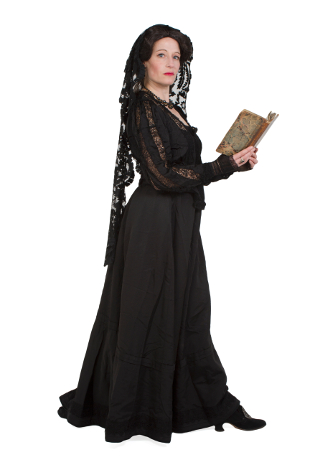 GOTHIC FOR GIRLS
All the dark drama of black in fashion, and the best of British supernatural stories. Shiveringly beautiful costumes and readings from Jane Austen, the Brontës and Mary Shelley.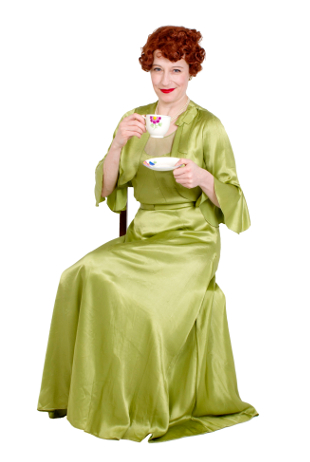 TEA GOWNS & TEA-TIME
A terribly tempting talk set in the 1930s - a decade of streamlining, speed and style. Find out what's on at the pictures, what's cooking in the kitchen, and how diet and drastic underwear can help you fit in the sleek lines of thirties frocks.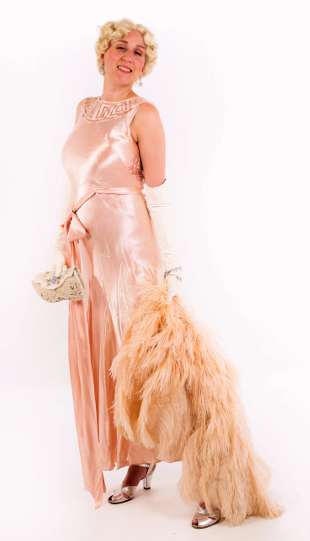 PINK: THE TRUE STORY
Pink represents romance, intimacy, passion and power. Girl's colour? Boy's colour? The truth will be revealed in all its pink-tinted glory!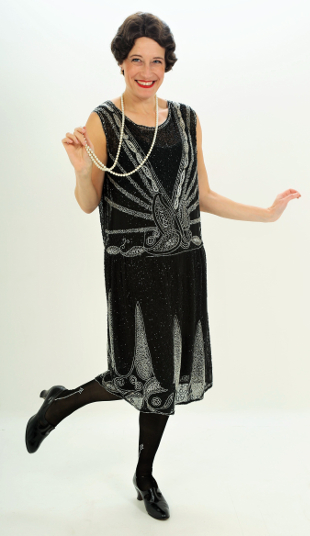 AGATHA CHRISTIE & ART DECO
Seductive, sensational and chic, this stunning fashion presentation celebrates the life ans times of the Queen of Crime, with dazzling Art Deco fashions and the added twist of a mystery to solve.
JOLLY HOCKEYSTICKS
A simply smashing show about school days and school stories. Discover the often-untold tales of pioneers in education for girls, and enjoy school uniform and gym kit galore!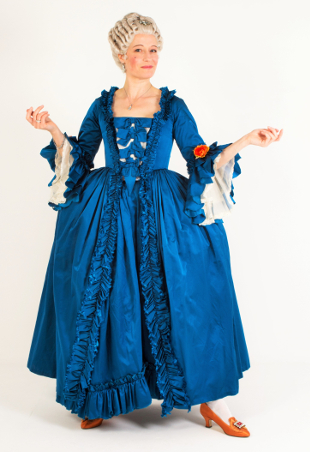 FAIRYTALE FASHION
A truly enchanting presentation of magical clothes and well-loved tales, re-creating a dazzling 18th century silver silk gown for Cinderella to wear to the ball.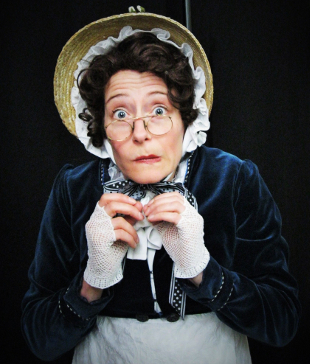 LADIES OF A CERTAIN AGE
Spinster, matron, mother, widow... Jane Austen's novels may have delightful young heroines, but they are also rich with rather older characters who now have the spotlight in this unique presentation celebrating old maids and matriarchs, from Miss Bates to Lady Catherine de Bourgh.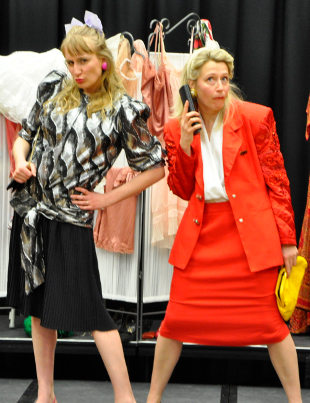 FROCKS ON PARADE
Fashions from the 1940s to the 1990s From the New Look to the New Romantics, Flower Power to power dressing. A brilliant 'do you remember?' experience with a fantastic music soundtrack.
Back to Top
---